a picture that shows the central role of conspiracy theory (subjective idealist view of life and history) in this new phenomenon that Robert called "Palestinianism".
The hardest image of all of these – Melbourne Australia 2010. This is obviously lethal stuff expressed for me in expression on the two main faces in the picture. Remember. Be warned. What Robert called a "new religión" and is in fact a component of a "new" Fascism.
Perth October 2011
Central Sydney 2012 – makes the central point of Robert as to how the reactionary ideology of "Mohammedanism" became integrated. These Young Muslims placed very consciously at the centre of these Israel hate fests. I use the old Word that Leon Trotsky used to use for Islamist Supremacism!
They appear at every Israel hating demo from Cork to Timbuktoo – here Australia!
SanFrancisco – these Young people have clearly found a new religion, one of the central points Robert Wistrich was making just before he died
Gaza always…note the well fed fat lady on the left and how the Muslim immigrants got together on these marches with the new religion of "Palestinianism" – Wistrich's last point made before he died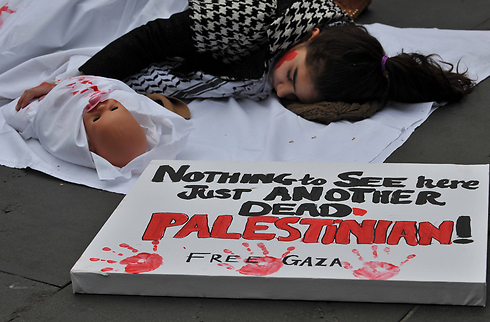 Melbourne again – these deadly lies and evil propaganda against Israel which IS the state of the Jewish people – sucks a surprising number of people in. Why? was the question that Robert Wistrich wrestled with. After all the Jews left gaza in 2005 and wanted the Arabs to take it over and begin to make it a success but there is none of THAT history in these demos. Shows the ability to REVISE history at will, even history of the past year! Or the past weerk! Or the past hour! Robert never really did crack this problem.
__________________________________________________________________________________________
DEATH OF ROBERT WISTRICH – FIGHTER AGAINST ANTISEMITISM AND TRUE SEEKER OF THE TRUTH
Robert S. Wistrich – the director of the Vidal Sassoon International Center for the Study of Anti-Semitism at the Hebrew University of Jerusalem and author of many books on the phenomenon of Antisemitism – died three days ago on Tuesday. He will be very sorely missed by all patriotic Jewish people and by all non-Jews like myself who defend Israel and defend historical truth.
I have always admired Robert Wistrich. He was a true academic with all his works heavily sourced. Yet he was clearly also engaged in a practice and his books were always not an end in themselves but an aid to the active defence of Jews in this all too material world. He also was original which is seen in his recognition that Antisemitism had morphed. The new Antisemitism especially since 1967 was based on lies about Israel, lies that can be quite easily discredited, but there is the catch – more is involved than mere writing or words to overcome this "new" Antisemitism. Robert in his last words seems to be very aware of that.
It seems a bit impertinent given the power of his work but…In a spirit of moving forward – I feel that Robert Wistrich did not give enough weight to two matters. The first is the historical writings of Karl Marx for the New York Tribune in which there are clues regarding Marx's true positions towards the Jews which have been dreadfully distorted.
I have maintained for a long time that Karl Marx was in reality a friend of the historical Jewish people. It is often forgotten that Karl Marx was an atheist being out of the dialectical materialist tradition. In the whole though, or indeed because of that very thing, Marx supported full rights to Jews in Prussia along the lines of the American model. Marx also viciously attacked Islam in his writings for the New York Tribune and at the same time on a special visit to Jerusalem wrote very important material on Jews in Jerusalem where in mid-19th century they were in the overall majority
The second point I make in this critical regard is that Robert Wistrich needed to give far more weight to the transitions in the thought of Leon Trotsky and the vital importance of the positions Trotsky was taking up in the late 1930s in which Trotsky was analysing Fascism as nobody had done then or indeed since.
This had led to Trotsky calling in the late 1930s for the setting up of a Jewish state, that Jewish state of course to be in Palestine, to make it defensible, against who? – Well he specified the "Mohammedans" which was the word then used more than any other for "Islamist Supremacists".
The strength of Robert Wistrich latest positions are that he specified that Antisemitism today is not coming from groups in Europe and America like the National Front etc. but is coming from Muslim immigration in an alliance with pro-Islam anarchists and "leftists". I myself insist that the latter term of "leftists" (which is related to what I claim above concerning Leon Trotsky) must be defined very precisely and indeed capitalism can use a loose definition of "leftists" to institute a new "McCarthyism" … although I do not want to overplay that possibility of a new "McCarthyism", because our struggle is defined very much by libertarian fighters like Pamela Geller and Robert Spencer.
His work is a testament to his great devotion to the Jewish cause. I wish he had been given another five or ten years but not to be.
It is fitting that he was so active right up to the time of his sudden death. I feel that the work he has done and the problems that he was never quite able to solve WILL be solved in a new tradition – that of Trotskyism expressed mark you only here on this small site. But will not be small forever.