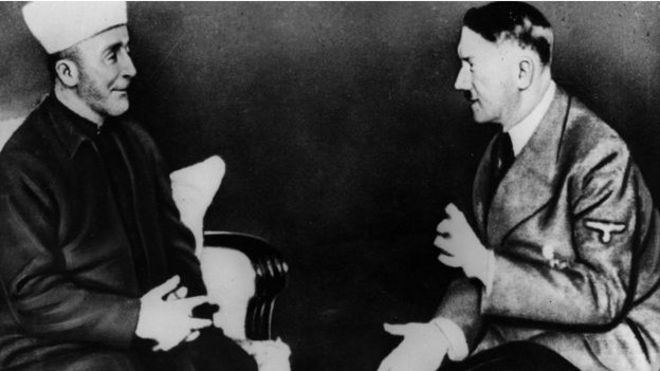 On the issue of the Bibi Netanyahu challenge on Hajj Amin el Husseini and his stirring reference to the role that the Arabs played inside of the Holocaust of the Jews from 1939 to 1945 I want this made into a great turning point. Everything that I say and do is translated through the concept of "leadership" and that "nothing every happens on ts own" in the field of leadership. This concept is Leninist and Trotskyist in inspiration, I am that in essence, but you dear Facebook friend do not have to be. We hold many concepts in our minds but find significant areas to join together and march forwards – never still.
From the very first words of Netanyahu on this I was stirred into immediate action. I tried to make it known on Facebook that those who claimed that Netanyahu was making an historical error were simply misinformed. It is they who were ignorant on the issue. Nor was Netanyahu acting like a "crafty fox" another way to say he was seeking publicity, or rather trying to make the hostile Media deal with the issue, which is valid but in this case is subsidiary because he was really being truthful. Yes he was speakiing the plain truth. The Nazis did have a policy of emigration of the Jews. They also invaded other countries and the invasion of Poland made emigration very difficult. The invasion of Russia in early 1941 led to the mass killing of millions of Jews, Communist Commisars and Russian peasants as the Russian Army withdrew to the centre. The closing of the borders to Jewish escapees by Europe and America made emigration less possible. In this context Walter Rauff in 1941 was instructed to develop the mobile gas killing vans. (Rauff later emerged under el Husseini in plan to murder all the Jews in Palestine) The call by the Arabs for mass killing of the Jews had preceded all of this… By many decades and in the long course of Islam by 1500 years.
(I interpose here an interlude in my writing on this. This concerns "Fascism" and this means that we have to undertake this task too – what is Fascism? In fact we cannot proceed without this fact/knowledge but let us anyway proceed)
It was thus a process. The Rauff Van led to the Zyklon B Death Camps. But in this context the alliance of the Mufti with Hitler was absolutely critical. The Mufti did not come to Berlin as an underling at all. He came with 1500 years of Jew Killing behind HIS cause.
It is most significant that the actual pivotal event came two and a half months after the Mufti visit and key meeting with Hitler in November 1941. The Wannsee Conference took place in vary late January 1942.
In this very bare narrative of events Bibi was totally correct in his assertion about the Arabs and their key role in the Holocaust of the Jews.
I have been following this issue for a very long time.
To proceed in a practical way I make two proposals concerning the next step – both of which involve study. First turn to hirhome.com where Professor Francisco Gil White has reorganised his material on this in a highly readable form (he is good at communication). Secondly if you are familiar with Amazon Kindle, and Kindle for PC or Mac which is auxiliary software if you do not want to buy the Kindle machine, and buy immediately the book: Nazi Palestine: The Plans for the Extermination of the Jews in Palestine [Klaus-Michael Mallmann, Martin Cuppers, Krista Smith] … It is very cheap to download a mere 10 euros. I have the book as well as the electronic download. This is most important to do and to begin systematic study of this issue.